Keo & Lulu get into shape
New pilates and yoga studio launches in Plymouth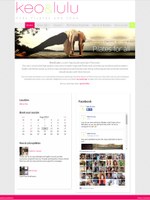 Keo & Lulu pilates and yoga for all
The fit and supple amoung us are in for a treat as Keo & Lulu opens its doors with a fantastic launch party this week. Situated in an attractive location, housing new mats and a spanking new website, Plymouth will never be quite the same again.
Beetlebrow has made an attractive and easy to update site for K&L to help them promote and maintain their business. With its usual information there is also an online booking system with a payment gateway so that courses can be booked straight from the sofa.
Keo & Lulu are very excited about their new business and also the new branding and website, with its social networking plugins the site will be positively humming.
And now relax...