Beetle blog & news
Keo & Lulu are on the cusp of taking the West country by storm with their new classes of Pure Pilates and Yoga and also mixtures of the two.

Beetlebrow is currently finalising the Keo Lulu logo for promotional branding and a spanking new website will complete the launch. This will also include a booking system to be implemented a short while after the initial opening. We've never been in such good shape!
"The circus is a magical place and a wonderful arena for inclusion and equality; we see time and again how a trip to the circus can change a child's life."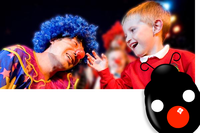 Circus Starr
Circus Starr is a charitable organisation that supports disabled, underprivileged and vulnerable children through its world class show. Beetlebrow are proud to have sponsored children to go and see the show in Plymouth last Friday.